OUR GRATITUDE
•
The New York Dental Hygienists' Association (NYDHA) has been working closely with the ADHA advocating for dental hygienists across New York state during this unprecedented time. NYDHA is at the forefront of developments, diligently monitoring the COVID-19 situation and actions of government and healthcare entities daily. At a time when the needs and concerns of NYS dental hygienists are high, NYDHA provides a strong voice. NYDHA's advocacy initiatives have achieved milestones for the practice of the dental hygiene profession in recent years, and they continue to provide NYS dental hygienists with groundbreaking leadership. Visit NYDHA's website for the latest in professional, educational, and legislative information:
OUR LIDHA LEADERSHIP
•
LIDHA Board Members
BECOME A MEMBER
•
Join Now
•
ADHA Membership Campaign:

ADHA has launched a membership campaign offering $50 off National dues for new members on top of the prorated rate. This offer is for NEW members only and runs through June 30th.
Visit www.adha.org and use promo code ADVOCATE upon sign up. Any issues that may be encountered can be directed to member.services@adha.net and will be taken care of immediately.
With more than 800 new members and counting, we clearly ARE all in this together!
CONGRATULATIONS!
•
Congratulations to the graduates of the AAS and BS in dental hygiene at Farmingdale State College! Although you may not have been able to attend a formal commencement ceremony, our hope is that you will celebrate yourselves and not let circumstance diminish the magnitude of your accomplishment. LIDHA would like to extend our best wishes to you all as you enter into and progress within this wonderful profession. CONGRATULATIONS!!
SPOTLIGHT
•
Every week in the month of July, LIDHA will be spotlighting a local BSDH Class of 2020 graduate. We intend to spotlight our colleagues as they achieve continued success in the dental hygiene profession. We hope to encourage membership in the ADHA and active community participation through example and support. Stay tuned!
•
June Spotlights
•
July 1st Spotlight: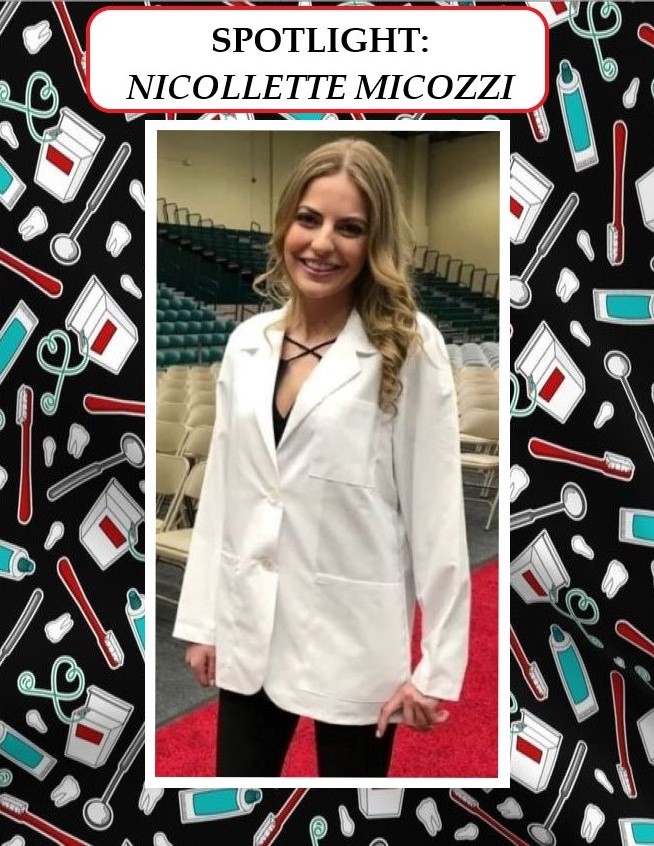 Nicollette Micozzi just graduated in 2020 with her Bachelor Degree in Dental Hygiene. Upon completing her Associate Degree in 2018, she knew right away that she wanted to continue her education. Nicollette wants to participate in community events and her dream goal is to volunteer on a dental missions trip!
---
•
Will you be in our spotlight?
Stay tuned!
ADHA COVID-19 UPDATES
LIDHA has been in contact with NYDHA as the COVID-19 situation and government actions unfold. NYDHA is monitoring on a daily basis and advocating for NYS dental hygienists. Visit their website for more information:
---
UPDATE: NY DENTAL CARE HAS RESUMED
May 31, 2020
In the evolving circumstances, the following is the announcement from the Governor made this afternoon.

Governor Cuomo has announced that New York dentists can reopen statewide Monday, June 1, with dental offices subject to state guidance on best practices for safety and social distancing. Accompanying NYS Health Dept. Interim Guidance for Dentistry During the COVID-19 Pandemic also has been issued.
---
UPDATE: CONTINUED DENTAL EMERGENCY CARE ONLY
May 30, 2020
New York State continues to designate dentistry for emergency only. See the NYS look-up site for counties and types of businesses and services, including those in phase 2. The NAICS code for dental offices is 21210 (North American Industry Classification System). For dental offices it states: "Your business is currently permitted to operate with restrictions statewide. Restrictions that are applicable to your industry are as follows: Notwithstanding the foregoing: emergency dental care may continue to be provided." This is an evolving circumstance. Watch for developments at NYDHA's website. NYDHA continues to advocate with state officials for dental hygienists and patient care.
---
NEW CDC GUIDANCE
May 21, 2020
Today the Centers for Disease Control and Prevention (CDC) released updated Guidance for Dental Settings.

Here is a summary of the recent changes:
• Recommendations are provided for resuming non- emergency dental care during the COVID-19 pandemic.
• New information is included regarding facility and equipment considerations, sterilization and disinfection, and considerations for the use of test-based strategies to inform patient care.
• Expanded recommendations for provision of dental care to both patients with COVID-19 and patients without COVID-19.

"Dental settings should balance the need to provide necessary services while minimizing risk to patients and dental healthcare personnel. Dental health care personnel should stay informed and regularly consult with the state or local health department for region-specific information and recommendations, and should monitor trends in local case counts and deaths, especially for populations at higher risk for severe illness." Review the full guidance here: https://bit.ly/2xwDYQ4. Please send questions to rdhcovidinfo@adha.net.

***ADHA's Task Force on Return to Work is currently reviewing this guidance and updates to ADHA's Interim Guidance on Return to work will be available soon.***
---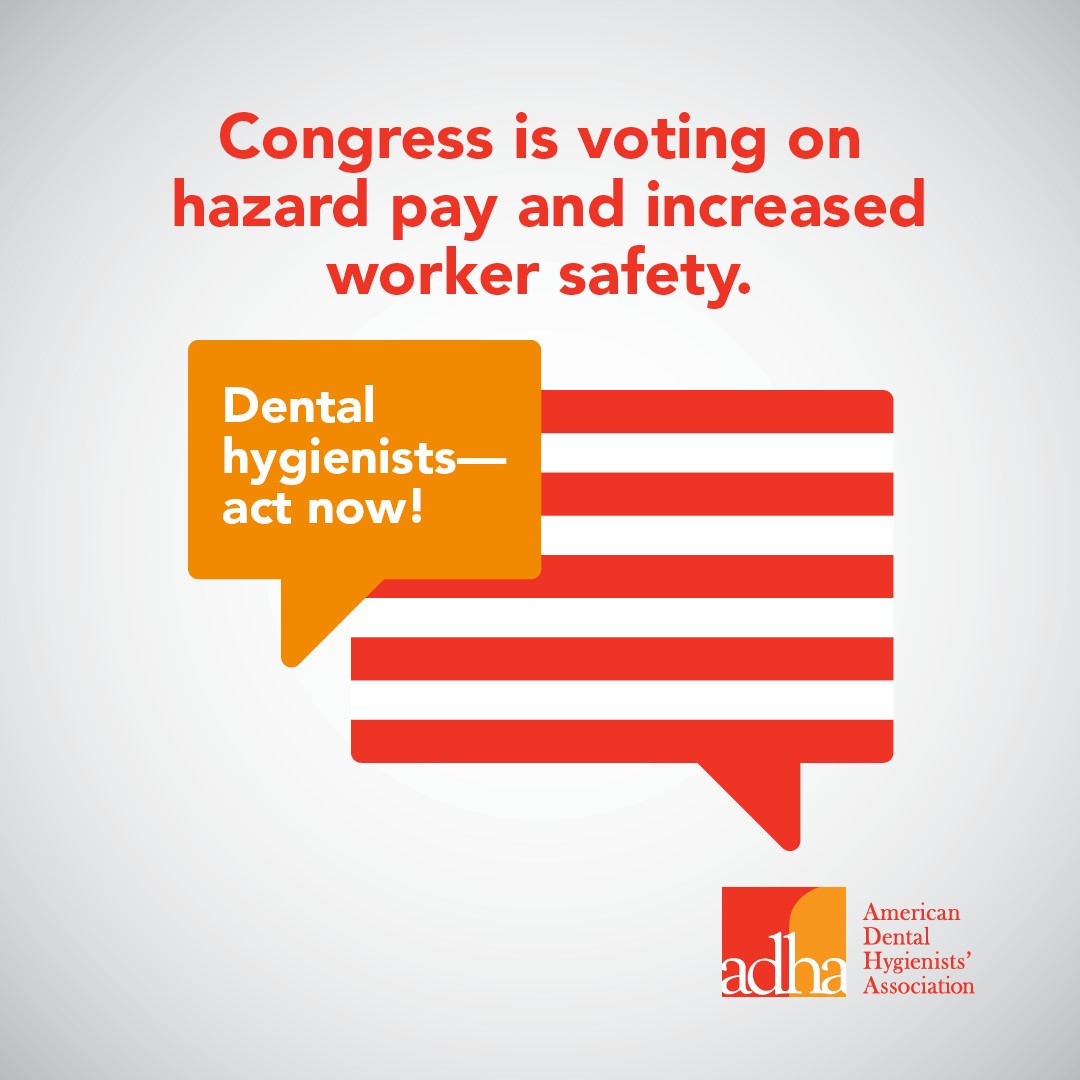 NEW ACTION ALERT
May 14, 2020
New Action Alert! The newly released Health and Economic Recovery Omnibus Emergency Solutions (HEROES) Act is a $3 trillion proposal that includes hazard pay for essential workers, increased worker safety provisions and more. ADHA has launched a campaign to amplify the voices of dental hygienists behind this effort. We are so grateful for each of you helping advance these important advocacy efforts. Go to the Action Center to learn more, be a part of ADHA's Congressional outreach and share with your colleagues. https://bit.ly/2LzF4Op
---
ADHA Interim Guidance for Returning to Work
April 30, 2020
ADHA has released their Return to Work Interim Guidance.
---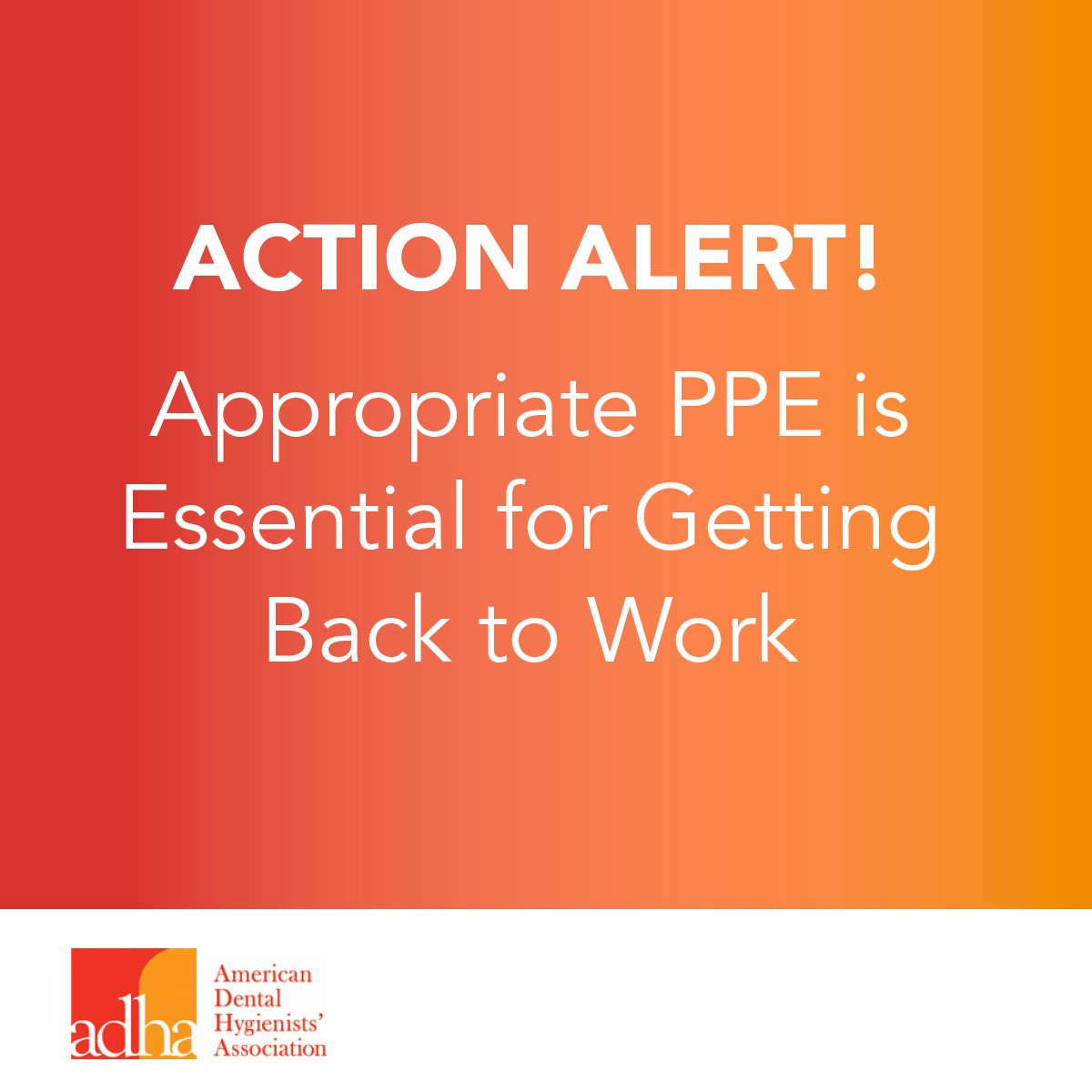 NEW ACTION ALERT: PPE
April 23, 2020
Let's keep it going! As of this morning, more than 15,000 of you have sent a message to your governor expressing the need to protect the health and safety of dental hygienists and patients.This ADHA campaign focuses on ensuring appropriate PPE is available when we get back to work, as well as continuing to postpone non-emergency procedures until it's safe to do so. If you haven't participated yet, it just takes a minute. Spread the word!
---
Show Older Information
<== click here